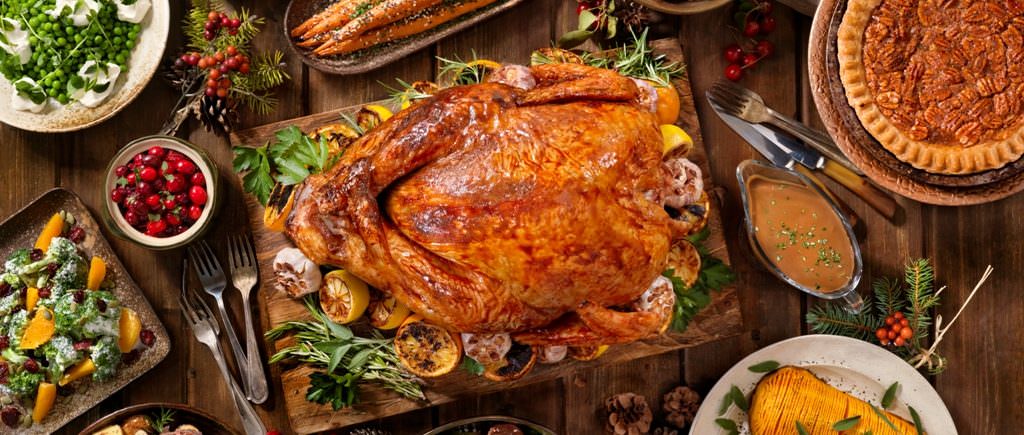 'Tween Waters Island Resort & Spa is steeped in tradition, and what could be more quintessential than the traditional Thanksgiving buffet. Held at both Crow's Nest and Old Captiva House, each on-site property offers a unique and delectable menu with a variety of offerings.
At Old Captiva House, start the experience with Cold Displays including pasta and green salads. You'll want to leave room for a huge seafood display which includes shrimp two ways, clams, scallops, mussel salad, salmon platter, smoked fish dip, crab dip and even sushi!
If you're a land-food-lover, you'll appreciate the buffet and carving station which offers traditional offerings like pork tenderloin, butternut squash bisque, candied yams, roasted turkey, prime rib, roasted ham and salmon wellington. Top off the day assorted homemade desserts.
The thanksgiving buffet at Old Captiva House is by reservation only and fills up fast! Make reservations online at Open Table or call between the hours of 4PM and 9:30PM at 239-472-5161 extension 421. Enjoy the buffet 2PM to 8PM for just $59 per person. Children 10 and under enjoy the buffet for just $19.95.
Whether you are a local looking to avoid cooking a huge meal, or a guest looking to still enjoy a traditional (and exceptional) Thanksgiving meal, locals and guests alike look forward to this tasty traditional at Old Captiva House. Join us today.

Dietary restrictions are becoming increasingly frequent and restaurants have adapted to those restrictions in efforts to make dining at a restaurant a more inclusive experience, and Old Captiva House has been leading the way on Sanibel and Captiva Islands.
Gluten-free dining is a challenge for those who suffer from Celiac disease or similar issues, and often restaurants can't or don't cater to all food sensitivities. At Old Captiva House, diners choose from a variety of gluten-free options.
Start the night off with Roasted Shrimp and Jumbo Lump Blue Crab Cocktail with classic cocktail sauce, or enjoy Pan Seared Sea Scallops with watermelon cucumber salad and white balsamic reduction. Both are seafood options, so if you're looking for something fresh without the sea, start with a Grilled Caprese salad, including grilled beef steak tomatoes, fresh mozzarella, arugula, basil pesto and lemon infused white balsamic; or the classic wedge, which includes sugar cured bacon, baby heirloom tomatoes, red onions and a Catalina blue cheese dressing. Both are priced at only $10 and will start off any gluten-free menu perfectly.
Moving to entrees, diners choose from a variety of options from the land and sea. Island seafood favorites include the Grouper, Chilean Seabass or Blackened Snapper. For land-lovers, there's a Slow Roasted Half Duck, Pomegranate Glazed Lamb Chops, Filet, or Vegan Delight (including pan seared vegetables and coconut jasmine rice). Ad lobster, scallops or shrimp to any of these options as well.
Whatever your dietary restrictions, be it a special diet, vegetarian or vegan, gluten-free or dairy-free, Old Captiva House is catering to guests to help them get the most out of their dining experience.