The safety of others is our most important goal right now, and here at Old Captiva House we want you to know we're doing everything we can to ensure your safety.  
We want to stay connected with you and transparent with our approach to a healthy environment at this time. That's why we're staying SanCap Safe. We're committed to using industry-approved sanitation, hygiene and infection control practices to ensure the safety and well-being of visitors, residents and staff. 
What exactly goes into being SanCap Safe? Here's the rundown:  
1.) Wash Hands Often
Washing your hands with soap and hot water for at least 20 seconds is essential. We're making sure our staff is washing their hands consistently. We're asking staff and guests to use hand sanitizer when possible as well.  
2.) Avoid Close Contact with Others
Our employees are practicing safe social distancing when needed. We're staying six feet apart from others, both indoors and outdoors, and we're asking guests to practice this measure as well. Keeping a safe distance is especially important for those who are at a higher risk of becoming very sick.  
3.) Mask Up
We're requiring our employees to wear a mask both inside and outside wherever and whenever possible. Masks should cover both mouth and nose always. We encourage our guests to wear masks as well, only removing them to enjoy food and drink.  
Practicing the SanCap Safe measures, we believe our staff can provide a safe environment for guests to enjoy some of their favorite drinks, dishes and treats. Click here for more information on all the ways we're staying safe.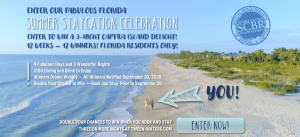 2020 has been one of the most turbulent years the world has faced. Luckily for Floridians, Tween Waters Island Resort & Spa on beautiful Captiva Island is offering you the chance to make the best out of our glorious beach summer — and all close by. 
Starting today, Florida residents only can enter to win 1 of 12 four day, three night stays at the legendary 'Tween Waters Island Resort & Spa. Not only will lucky winners enjoy a luxurious guest room, each winner scores a bonus $100 dining credit for dining and beverages at any one of our three TripAdvisor top-rated restaurants.
"With the challenges of 2020 and the limitations currently of travel, we as a corporation wanted to say thank you to our many Florida guests past, present and future," says Doug Babcock, Chief Executive Officer. "Providing 12 weekly winners over summer and early fall will create some big smiles."
Winners will be drawn weekly and all 12 winners will be notified on September 30, 2020. Care to double or triple your odds of winning? Every time you book and stay at any Sanibel Captiva Beach Resort three nights or more before September 30, you're entered again!
So stay now, stay often and maybe later! Just be sure you enter here now.

Sanibel Captiva Beach Resorts, Southwest Florida's leading hospitality management and marketing organization, today debuts a new video that features 50 employees extending a warm welcome back to Sanibel and Captiva Islands.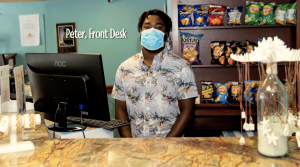 Photography for the video was conducted across a full day at six SCBR brands: 'Tween Waters Island Resort & Spa, Old Captiva House, West Wind Inn, Beachview Cottages, Castaways Cottages and Sanibel Captiva Island Vacation Rentals. Staff included virtually all departments: maintenance, housekeeping, guest services, food and beverage, weddings and events, sales, management and even the organization's Chief Executive Officer. In every location and occasion, staff demonstrated best practices with approved face masks and gloves. The organization's COVID-19 policies and procedures can be found here.
"Our goal with this video is to welcome our guests back the best way we can — with the genuine hospitality and passion for satisfaction each member of our team brings each day," says Doug Babcock, Chief Executive Officer. "Many of our guests are long-time fans, and have come to know a lot our staff on a personal basis. This is our way to reach out, say hello and assure them we're taking every precaution to safeguard their health, and the health of employees."
The video will be featured on property websites, through social media and e-marketing efforts. You can view the video here.